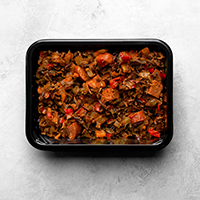 Wild Rice Jambalaya
Culitaved wild rice, roasted pepper medley, sweet caramelized onions, and bison sausage cooked with a Houma-style creole seasoning.

Tasty!
The Jambalaya is a perfect portion to fill you up, but not weigh you down and the sausage is perfection.
As an early morning gym goer allergic to eggs, I have been struggling to find a high-protein breakfast option that will satisfy my caloric & protein needs & tastes good. Knowing I can have a quick, delicious, diverse & thoughtfully sourced meal is essential for my health & fitness journey. Finally, I have an option that makes me want to eat breakfast again & is so delicious. If Tocabe were next door, I'd be there every day.... this is the next best thing!
Thanks so much, Georganna!! We appreciate your thoughtful review :)
With Gratitude, Team Tocabe