Convenient, nutritious eating
— the Indigenous way.
Explore the benefits and nutrition of Native foods. Prepared meals and Native-sourced staple ingredients from Tocabe.
---
---
Ethically Sourced Staples

Non-GMO

Natural

Indigenous

Organic

Gluten free
Native foods to feed your family.
Butcher Shop
Shop our 100% grass-fed bison which is Native raised,
ranched and harvested. Enjoy the true flavor of this traditional animal as it has been for centuries.
Shop Now
Explore Pantry
Build the core of your Native and Indigenous pantry with high quality, wholesome, and nutritious Native and Indigenous ingredients.
Shop Now
Meet Our Partners
Meet our some of our Native and Indigenous producers. Your purchases support Indigenous and local farmers across the nation, making an impact in our communities.
Read More
When shopping for food to feed your family, you shouldn't have to worry about breaking the bank or being served a side of guilt with your meals. We created Tocabe over 15 years ago with the idea of simplifying the supply chain and making Native cuisine accessible. Now we connect you, and your family, to Indigenous ingredients and ready-made meals with just the
click of a button.
Shop the marketplace
Getting Native foods delivered to your door has never been easier. Here's how it works:

Shop our online pantry
We make regional shopping local by creating access to Native and regional ingredients online.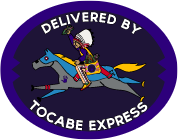 Get ingredients delivered to your door
We pick, pack, and ship your order to your doorstep. Get high-quality, natural, nutritious staples delivered fast.

Make a positive impact
By shopping our Indigenous Marketplace, you are participating in food sovereignty and supporting Tribal and local farmers across the nation making a positive impact in our communities.