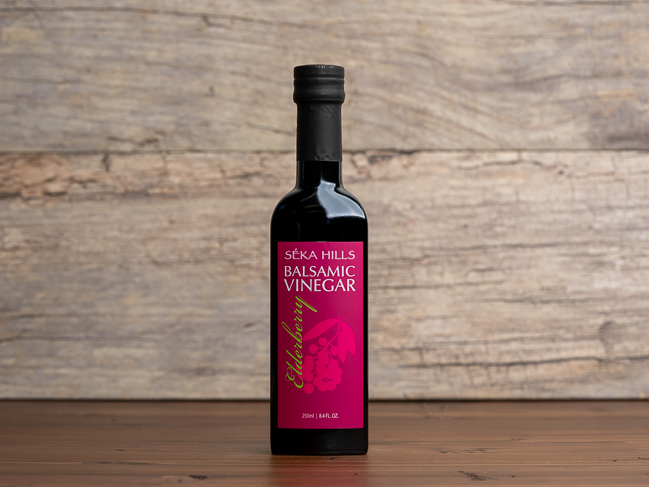 Séka Hills Elderberry Balsamic Vinegar
Séka Hills Elderberry Balsamic Vinegar recipe was crafted to their specifications in collaboration with Bellindora Vinegar in Thornton, California. Golden balsamic from Chardonnay grapes, white vinegar, and natural elderberry flavor from local ingredients takes this balsamic to the next level.

For centuries, the elderberry has been gathered for its intense sweet flavor and natural health qualities. Rich dark berries add bold notes to vinaigrettes and marinades. Pair with handcrafted extra virgin olive oil, drizzle over grilled meats, vegetables, cheeses, or desserts for a decadent flavor.
| | |
| --- | --- |
| Ingredients | Golden balsamic, white wine vinegar, concentrated grape must, natural elderberry flavors, naturally occurring sulfites  |
Fantastic Stuff
Delicious ! It goes great with everything, I plan to order again.
Amazing on everything
I really love this balsamic - it is versatile and sweet and sour and overall goes great on any salads, rice bowls, bread, and a bunch of other foods. It's a must try!
Thank you so much, Rin! We appreciate your review and couldn't agree more :)
With Gratitude, Team Tocabe
Delicious Balsamic!!
I used this to make a balsamic fudge, and it was delicious!
YUM! That sounds amazing! Thanks for your review, Megan :)
With Gratitude, Team Tocabe
The Best Vinegar You'll ever Buy!
I rarely use vinegar when I cook, but seeing that this included Elderberries, a plant that I really enjoy made me very interested in giving it a try. Needless to say I'm ecstatically happy with how much the flavor exceeded my expectations. The mixture of savory and sweet that the combination of Elderberry and Balsamic Vinegar provides is unmatched, and I doubt you'll find so perfectly a paired mixture of flavors anywhere else! I love this vinegar and will definitely be buying more when I run low on my supply! Give it a try, I'm sure you'll love it as well! If you like Elderberries and you like Balsamic Vinegar then there's no better place for you to buy it than from Tocabe!!
Jason, thank you so much for your wonderful review! We are thrilled you're loving the Elderberry Balsamic Vinegar - we love it too! We look forward to serving you again when it's time to buy a new bottle :)
With Gratitude, Team Tocabe
Excellent
This is hands down the best viinegar I've ever tasted. It's beautiful. Rich, full bodied, very balanced. It's also hard to find and the Tocabe Marketplace had the best price - about half of what Walmart was charging for a bottle if you can believe that. Buy a bottle and have yourself a Caprese salad with summer tomatoes and Seka Hills olive oil. It's the quintessential taste of summer. Just beautiful.
Beth, thank you so much for your wonderful review! We appreciate your kind words and will be taking your advice and treating ourselves to a Caprese salad tonight :)
With Gratitude, Team Tocabe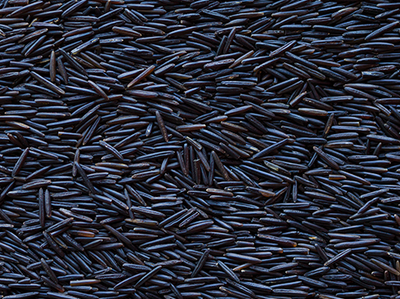 Technically an aquatic grass, wild rice isn't actually rice. Studies have shown that wild rice is...
$9.50 each
Canadian Lake Harvest Wild Rice comes from marshlands and wetlands and is still harvested in the ...
$13.00 each
Grown and harvested by Ramona Farms in Sacaton, Arizona, a community on the Gila River reservatio...
$10.00 each